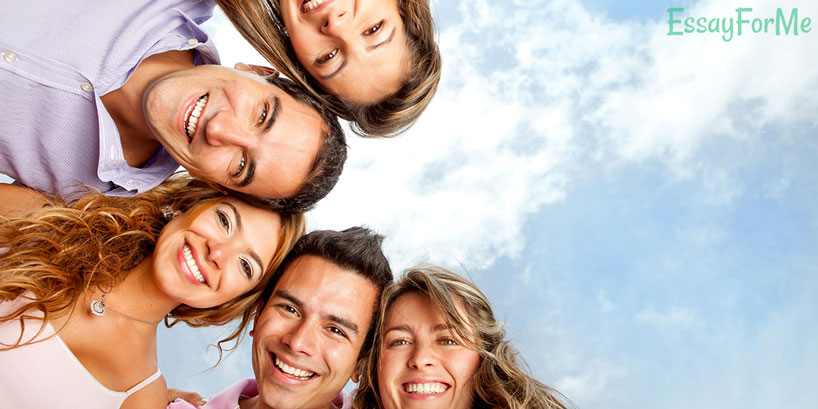 Have you ever thought about what activities you usually dedicate your day to? An average student can't even imagine his or her life without checking the mailbox and scrolling down the Instagram line right after awakening, eating junk food in front of TV or computer when coming home after classes, playing primitive computer games and sacrificing health and some night sleep, etc.
That list of useless things can go on and on. The point is that all those time killers ruthlessly eat out our time and influence life quality. But one can cultivate useful habits instead. The list of those is specified in this paper, one of numerous essays that our professionals write for you.
Spend Time Outdoors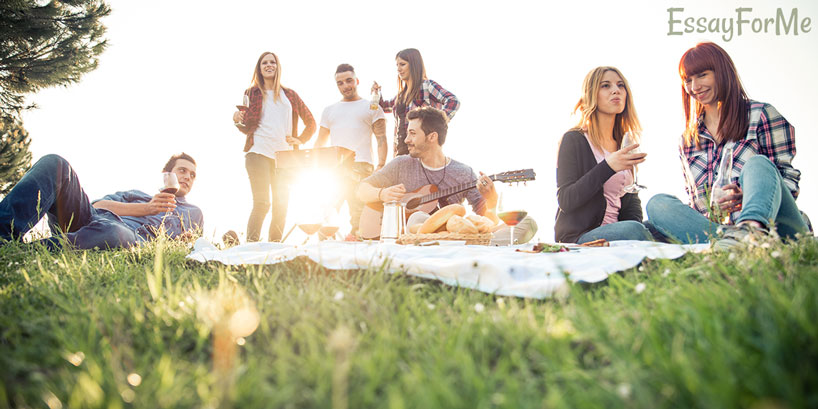 No matter what weather is outside the window. One may find pleasure in rainy and snowy days. Acquire the habit to stay outdoors as much time as possible. Go outside, look around and pay attention to small details. Singing birds, the life of a big city, the tender rays of the sun, hurrying people…Watching the world around you will significantly improve your mood, allow you to relax and escape from the busy world.
Go or ride a bike to the nearest park or just walk along the street, trying to concentrate on your thoughts and feelings. In case you feel bored of walking alone, pick up your friend or groupmate and go for a walk together.
Take some snacks and a patchwork quilt, find the most picturesque place and arrange a picnic there. That's a wonderful way to relax, calm down, clear one's mind, forget about any problems even for some time and fill one's body with positive energy. When you come home, you'll feel extremely active and ready to cope with any difficulty as fresh air and nature do miracles to your mind and body.
Running and Its Benefit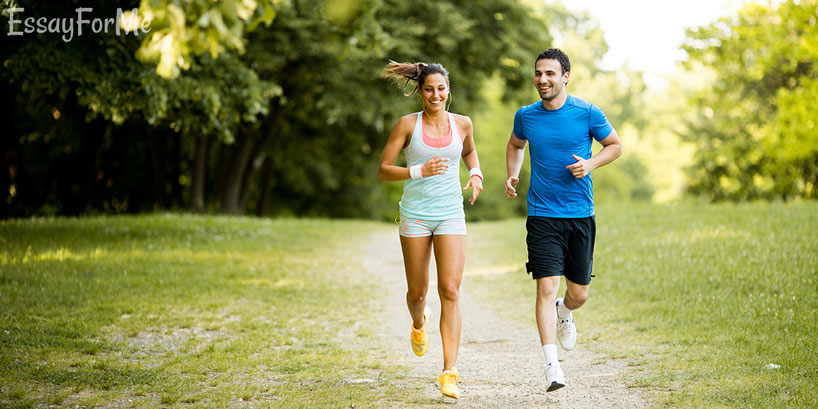 If you care about your health, but you lack the time to attend a gym or go in for yoga or Pilates, then running is a habit worth trying. The advantages provided by running are obvious. It strengthens muscles, adds much to the proper functioning of the cardiovascular system, and helps to get one's weight down. Moreover, that's absolutely free. You don't have to pay for that as much as if you attended a gym.
Find time for running in the evening in the nearest park or along the streets. The best time for that is considered from 6 to 8 pm. Running raises one's mood automatically and helps to get over troubles. You received "D" grade or a teacher didn't appreciate your report? You feel angry and almost ready to kill someone? Calm down and go for running. In 20 minutes your bad mood will disappear into thin air.
Fruit or Sweets?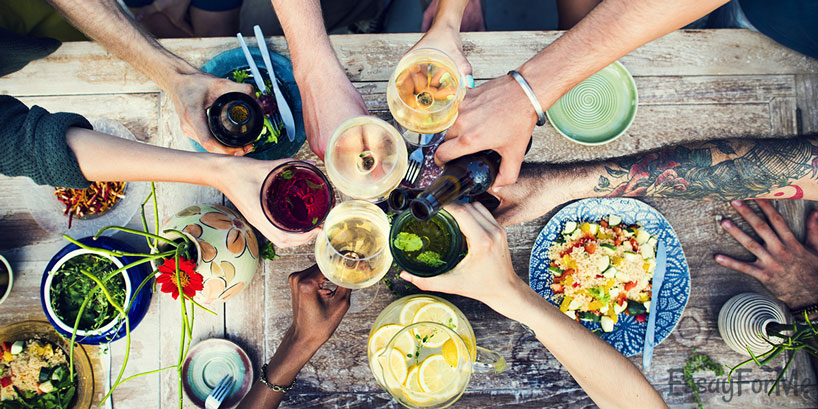 The idea of a balanced diet is an essential condition for physical and mental well-being. If you get used to having a bite during a break with a chocolate bar, hamburger, chips, and nuggets, that's a very bad idea. When you eat junk food, you sacrifice not only a slim figure and an excellent physical form. It really becomes harder to stimulate brain activity as it doesn't get mineral nutrient and vitamins. That results in a sleepy mood, apathy, sickness, memory impairment, etc. That also influences your studies: unsatisfactory marks in tests, missed deadlines and many other things.
To avoid all of the things mentioned above, substitute cakes and crackers with nuts and fruits. Make it a habit to buy that in supermarkets or in organic shops and put the healthy snacks into your bag with your notes from lectures. That will save you from hunger. Moreover, your brain will function better and faster.
Find a Hobby
Nowadays one has various ways of spending free time profitably according to personal interests and preferences. Watching sitcoms during whole evenings and posting on Instagram (if blogging is not your professional responsibility) is not a hobby. Those are all time-wasters and habits that ruin your personality. Hobby is about creativity and developing talents but not spending valuable time for fiddlesticks. Think of something that will contribute to your personal development and what really makes you get the incredible mood.
Find an hour or so for your hobby a few times per week. That serves as a magic stick that helps get out of boredom and aimless walking around your room when you're looking for how to keep busy. In case you still have no hobby or it's difficult to dilly-dally over the choice, then, as an option, you may make use of couch consulting that will help to find the hobby according to your basic skills and personality type.
Even the simplest activity helps a person to improve. After all, when we do the things we love and are good at, we become better. Nobody will argue with the fact that cross embroidery teaches a person assiduity and patience, parachute jumping and mountaineering help to fight with fears, painting or music - train the brain activity.
By the way, a hobby is not only a means of relaxation but also a good possibility to earn money. If you design clothes, are keen on nail art, is the best one in Philosophy among your groupmates, those skills may fundamentally help your monthly budget. Just think about that.
Don't Underestimate Socializing
Communication gives us a lot of privileges. The benefits of daily communication are obvious. Being a sociable person is important for successful adaptation in society, and it contributes much to the intellectual development in general. It is essential to find someone with similar interests in order to exchange experience and motivation. And although sometimes it seems that no one is interesting enough to start a conversation with, it is worth trying! After a while, you will notice more good qualities in any person, just try not to be prejudiced.
Try to socialize mostly with optimists. Such people are usually very emotional, full of energy and wonderful ideas to live a happy life. An optimist can teach you what you need to do to enjoy life and see only good things in it, take responsibility for yourself, be active, look positively to the future, set goals, achieve them and do not back down from challenges.
Be Attentive to Animals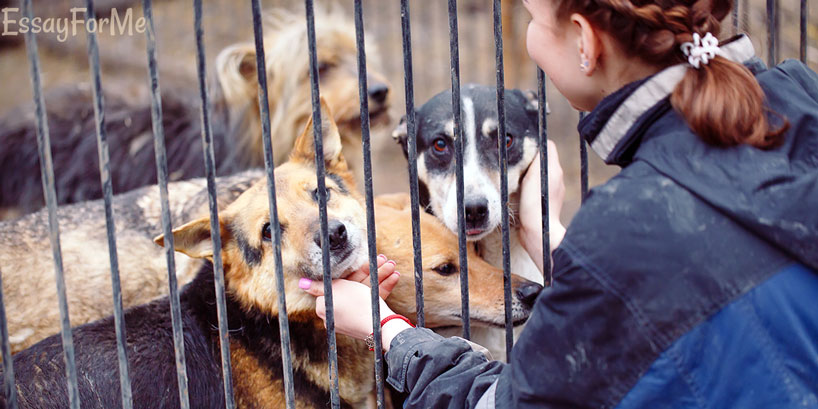 There is plenty of reasons to love the wild world. Animals help people to make up for the emotions they lack in communicating with each other. People who find time for playing with animals at animal shelters are less amenable to stress, more life-loving, optimistic, healthy and proactive. One may come to the conclusion that animals bring harmony, joy and a positive attitude towards life.
Almost in every city, there can be found several animal shelters. Discuss the possibility to visit the nearest animal shelter and make a contribution to charity activities with your groupmates. Communicate with people who work there and suggest your help in buying some food or medicine, maybe some of your groupmates have grooming talents and may assist with that.
The most pleasant and easy task is to communicate directly with animals: to palm cats, to frolic with the dogs on the walking grounds (if such are available in the shelter) or to teach them to walk on a leash and to comb the wool. When you come and look into animals' eyes full of love, you give your heart to them without any doubt. Create a habit of visiting shelters at least once per month and you won't regret it.