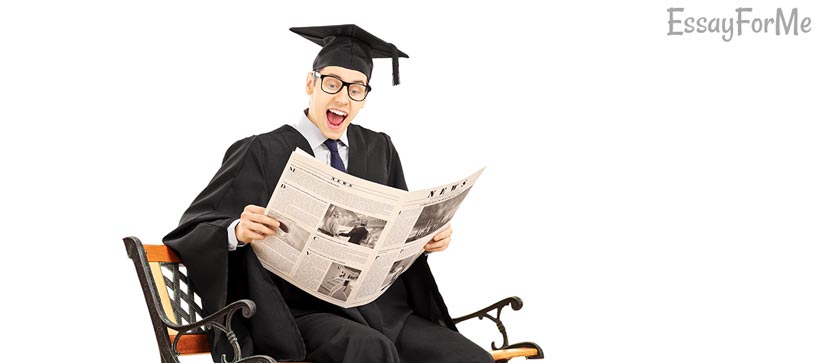 You already know that essays are the most frequent homeworks to do. When you are to write a good essay, you have to think it out well. You have to look at things you know and decide what you should get to know in order to do your best. Therefore, you need to know well the topic you are going to work with and things which are required from you as an author. Therefore, if you have chosen a theme that deals with current news you have to prepare to write properly. I have decided to create this article to help you with this kind of essay writing.
Choose the News
First of all, you have to choose the article which provides the news you will write about. There are so many different periodicals dealing with any sphere, so you can choose anything you want starting with politics and finishing with dolphin's gestation. However, you have to be sure that the newspaper you have chosen is reliable and provides proved information. That is why issues of yellow press do not fit. Then, pay attention whether you understand the news introduced in the article. If you have nothing to do with this information, you better find another article or be ready to extend your knowledge in this very sphere, in order to feel confident about your work. You have to take to it as a duck to water. In addition, do not forget about your assignment. The news should be suitable. There are too many doubts whether your teacher will appreciate an essay about life cycle of endangered butterfly when your task deals with corruption. To get the sense of the assignment and to catch the style to follow, you may need to review some custom essays of the kind.
Get to Know All the Dots
After choosing the article, you have to read it as well. You have to find out the main point that created this very news. Then, you need to mark facts that are related to conditions of the news. To make it easier, you can highlight time, place, conditions and people involved in the article. Maybe, you will also need to look for some more details somewhere else. However, do not forget about the reliability of the source of information you use. Now you can see the angle of your future essay. Thus, you are ready to develop a thesis statement.
Introduce, Put the Thesis, and Prove It
Therefore, in the first paragraph you shall say some words about the article, where you have found your news: some kind of introduction. You are to share its title, author and the newspaper that published it. Not a bad beginning, taking into account that it can turn even into a kind of advertisement. Remember that in college essays, any information that has been borrowed but not cited is considered as plagiarized. Next little step is to draw the balance of previous data and put your thesis. Then, you should explain how the chosen article proves your thesis statement (here you will need your highlights). That will form the main body of your essay. Moreover, you can devote some sentences to the bias of the text. Nevertheless, news is considered to be unbiased, however, the words, that are used by the author can influence readers greatly. Although, if you want, it is possible to insert such an information as addition to your conclusions, but it will depend on your last paragraph.
Final Chord
There is no wonder, that after you have completed the main part of your essay you have to make a conclusion. Beware not to turn it into retelling of the article. You have already told about where it could be found. If your essay looks like a summary, it is better to pay for assignment help, because it will not get a high score. Of course, you have to reaffirm your thesis one more time (there is nothing bad in reminding about crucial points), but do not forget to insert some final thoughts and observations. Moreover, your last paragraph is an appropriate place to tell your own (or refer to any scholar's speech) predictions about further development of the situation that is observed in the article you have used or tell any other appropriate comments.
Surely, at the very end you must proofread your essay and make sure that the readers will focus on its content rather than on superficial elements.